Helping You Loosen Up After a Long Day
Both laboring work and office jobs alike can cause chronic neck and shoulder pain.
Our heat therapy wrap offers an effective remedy to stiff necks and sore shoulders with Far Infrared Rays (FIR) which penetrate deep below the skin to ease the pain.
The safe, low voltage wrap comfortably conforms to the upper back and neck to loosen up knots and relieve aches and pains without the use of potentially harmful medications.
So whether you are coming home from the office or have just finished lifting weights at the gym, the At-Home Heated Neck and Shoulder Wrap provides immediate relief. Click here for more info.
Specification
Safe, Far Infrared Ray (FIR) Heat
Automatic 30-Minute Safety Timer
Personalized Temperature Controller
3D tailored. Adjustable. Form-fitting.

3D tailored and anatomically designed garment positioned directly on the elbow back area to fully relax tense muscles, ligaments, and tendons.
Solution for symptoms that cause neck and shoulder pain and discomfort.

As you already know, our body's natural reaction to acute pain is to tighten up and resist movement to prevent further injury. This defense mechanism usually causes prolonged muscle tension resulting in lingering chronic pain.

Our FIR Heat Therapy Wrap relaxes your muscles, tendons, and ligaments with soothing heat to increase your flexibility and blood circulation thereby relieving the sensation of pain.

The benefits of heat therapy help to relieve pain caused by:

Muscle Strains, Spasms, and Cramps
Muscle Tension
Herniated / Ruptured Disc
Pinched Nerve
Whiplash
Rotator Cuff Tendon Strain, Inflammation, or Tear
Separated shoulder (AC Separation)
Adhesive Capsulitis (Frozen Shoulder)
Shoulder Impingement Syndrome
Superior Labral Anterior-to-Posterior (SLAP) Tear
Dislocated Shoulder
Post-Operative Recovery
Tendonitis
Repetitive Stress/Strain Injury (RSI)
Gout
Arthritis Pain and Inflammation
Bursitis
General Neck and Shoulder Pain
Other Soft Tissue Shoulder Injuries and Chronic Conditions
Far Infrared Ray Technology

F.I.R. Technology transforms light energy emitted by the sun into therapeutic heat energy that stimulates the body's natural healing capabilities and lymphatic movements to get rid of toxins and oxidative stress.

Heat Therapy

Heat therapy is the most recommended non-invasive, non-pharmaceutical form of pain relief and rehabilitation by physical therapists and medical professionals alike.

Convenience

The revolutionary design brings the power of Far Infrared lamps seen at the doctor's office into the convenience of your home!

Safe Low-Voltage

Our heat therapy products are low-voltage and produce virtually no electromagnetic fields (EMF) for your safety.
What is F.I.R.?

Produced naturally by the Sun, Far Infrared Rays (FIR) are wavelengths of energy found within the light spectrum but invisible to the naked eye.

Through a process known as "thermal conversion", these rays allow the warmth from the Sun to penetrate deep into the human body and gently elevate its temperature which has been shown to be a beneficial to the physiological well-being.
Deep Penetrating Therapeutic Heat

Unlike conventional forms of heat therapy products, which heat up only the surface of the skin, Far Infrared Ray heat penetrates up to 3 inches into the muscles and bones, optimizing its therapeutic benefits.

In addition, FIRs superior heating efficiency enables users to use a lower overall heating temperature, perfect for sensitive individuals.

Dilates blood vessels
Increases blood flow
Heightens blood oxygen level
Relaxes muscles spasms
Loosens joint stiffness
Speeds up cellular healing
Low Voltage Plug-In

Our At-Home Heat Therapy Back Wrap uses a built-in low voltage plug that connects easily to any outlet in your home or office.

The simple temperature control interface allows you to have heat on demand and to select between 4 different heat settings with the touch of a button.

Automatic 30-minute timer for added safety
LED status indicator
Converted 12V DC Power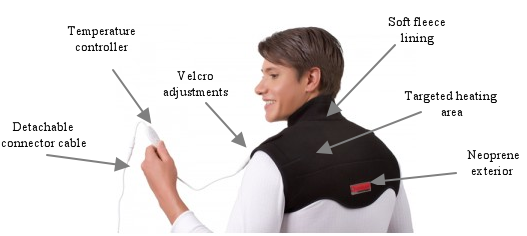 Temperature Settings

| Settings/LED Status | Average Temp |
| --- | --- |
| Low Green | 35-40 °C = 95-104 °F |
| Medium/Yellow** | 40-45 °C = 104-113 °F |
| High/Red | 50-55 °C = 122-131 °F |
| Max/Blue | 55-60 °C = 131-140 °F |

**Medium Setting is the most common setting
Inside the Box
At-Home Heat Therapy Neck and Shoulder Wrap
Low Voltage Plug with Temperature Controller and Timer
Instruction Manual
Measurement and Sizing chart

| Measurement | S/M | L/XL |
| --- | --- | --- |
| Shoulder | 15" to 20" | Up to 25" |
FAQ
1. What are Far Infrared Rays?
Produced naturally by the sun, Far Infrared Rays (FIR) are wavelengths of energy found within the light spectrum but invisible to the naked eye. Through a process known as "thermal conversion", these rays allow warmth from the Sun to penetrate deeply into the human body and gently elevate its temperature for pain relief effects.
2. What are the benefits of Far Infrared Rays used in FIRheat wraps?
Far Infrared Rays are a subject of scientific studies because of its many benefits. Its deep penetrating heat causes capillaries to dilate which increases blood flow and heightens the blood's oxygen level. The soothing warmth relaxes muscle spasms and loosens joint stiffness. It speeds up cellular healing and helps eliminate harmful toxins.
3. What makes FIRheat products different from other heat therapy systems in the market?
Unlike conventional heat therapy products that only heat up the skin's surface, FIRheat's Far Infrared Ray emitting wraps produce heat that penetrates into the muscles. This activates the body's natural healing process and gently elevates the body's temperature. This is known to be an effective pain management modality. In addition, its carbon-fiber heating element heats evenly, greatly minimizing the risk of burns.
4. Are FIRheat wraps safe?
High voltage, conventional heat therapy presents high levels of electromagnetic field frequencies (EMF) which can be detrimental to the health. FIRheat therapy wraps are safe because the product is low voltage and produces virtually no EMF. It is also equipped with other precautionary features such as a 30-minute automatic shut off, 4-setting temperature controller and LED status indicator.
5. How does the product work?
FIRheat therapy wraps are simple to operate and easy to use. Follow these 5 steps for a hassle-free heat therapy session:
1)— Wrap the FIR product around the aching body part.
2)— Adjust the fit by using the Velcro lock until it is snug and comfortable.
3)— Choose the heat setting that works best for you using the 4-temperature controller.
4)— Enjoy your 30-minute FIR heat therapy session.
5)— The therapy wrap automatically shuts off after the 30-minute session.
Our commitment to you is to provide you with maximum customer satisfaction through a 12-month limited product warranty. This product is free from any fabric, workmanship, wiring and heating element manufacturer's defect under normal and customary use. Please note Batteries and parts are covered with a 6-month warranty from the date of purchase. Heating element is covered for a 1-year warranty from the date of purchase. 12V Heated PowerSports Gear is covered with a limited-lifetime warranty on heating element from the date of purchase. One-year warranty is covered for the actual garment and parts from the date of purchase.