The Revolutionary Personal Cooling. The 2018 version comes with a detachable 3 Liter Bladder, which can be frozen with 85% water full. The Circulating Cold Water Cooling Vest was first built for the military. The products use a combination of ice water and pumps to push cold water through special tubes sewed into vests. This allows for a continuous flow of cool water around the body core, keeping the user cool and comfortable in any condition. The backpack that holds the ice/water bladder can be easily replaced for continuous cooling over extended periods. This is NO Evaporative, Phase Change or Air-Cooled Vest! This is the best, most Affordable Circulating Water-Cooled Personal Cooling Vest. Commonly used by people with Multiple Sclerosis and other medical conditions, and for hazardous material suits, military combat gear, mascot costumes and outside workers. Click here for the user manual. Click here to see how does it work.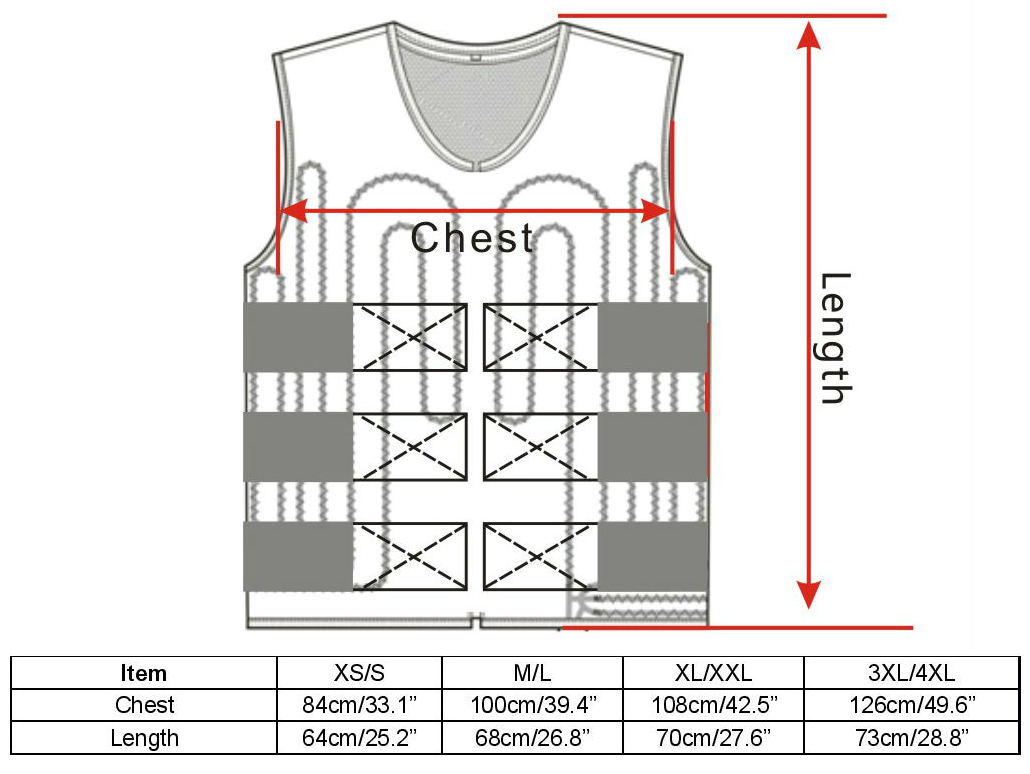 Always order the backpack, unless you need to wear an uniform on top (click here to order waistpack), or sit on a chair like Sportsplane pilotes and Auto drivers (click here to order handbag).
Features

Completely self-contained system with unlimited mobility.

Built-in Ice Water Circulating System, delivers the right temperature to your body core.

Side straps adjustment, fits snugly around your body, get the maximum cooling effect

Rechargeable battery can last 6-8 hours per charge,

practical for most outdoor and indoor activities
Specifications
Pump: 7.4V, 400mAh

Flow Rate: 500ml/minute / 1.05 PT/minute

Battery

: 7.4V, 2200mAh

Water Bladder: 3L / 3.2 Quarts

Ice Bottle: 1.2L / 1.27

Quarts

Weight: 2 KG / 4.4 lb.

Approx Duration: 1.5-4 hours
FAQ
What's new in Version 2018? Why it costs $20.00 more
The detachable Bladder! The whole bladder can be frozen. The cooling time will be 80% - 100% more than the 2017 version. The high quality fittings will cost $20.00 more.
What's the Different between this vest and $219 one?
The $219 one is "All-In-One" and 2 litre bladder; thisr one is separate backpack and 3 litre bladder
How long will the ice last?
The actual duration depends on a) how much "cold" you start with; b) how rapidly heat is absorbed.
*Tips: Freeze many bottled waters, keep them in a cooler. Swap them out when the water get warm.
How long will the battery last?
6-8 hours per charge. Click here to buy additional batteries.
How to tell if the water is circulating?
There are an inlet and an outlet on the back of the Bladder. The higher one is the water inlet; and the lower one is the water outlet. Fill water to the minimum water level. Turn the pump on. If you see the water is coming back from the inlet, that means the water is circulating through the vest.
365 Day Limited Warranty. 6 Months Warranty for All accessories. The unit is thoroughly inspected and tested before leaving the factory. The unit when purchased from a United States retailer is warranted against defects in materials and/or workmanship under normal use for a period of three hundred sixty five (365) days from date of purchase by the original purchaser. If a defect arises and a valid claim is received within the Warranty Period, at its option, we will either 1) repair the defect, using new or refurbished replacement parts, or 2) replace the unit with new ones that is at least functionally equivalent to the original unit